Read well. Write well. Lay a solid foundation in all aspects of language arts: grammar, usage, reading comprehension, literary analysis, and writing. These are the goals of this language arts high school prep course. Yes, I did say high school prep. We talk a lot about college-prep but solid high school prep is necessary in the junior high years if a student is to have the skills necessary for effective college prep during the high school years. This course focuses on high school prep. Skills for Language provides the necessary step-by-step skill building. This is the entry level course from James Stobaugh whose follow-up courses include Skills for Literary Analysis, Skills for Rhetoric, and World, American, and British Literature. Constructed around passages from major works and the Bible, students are expected to complete daily lessons, to write in a prayer journal every day, and to systematically review vocabulary words. They are encouraged to read the complete works from which the passages are drawn. Additionally, students work daily on a wide variety of composition assignments including paragraphs, reports, essays, letters, and a course-long novella project. Passages are taken from these works: The Bible (NKJV), The Yearling, Les Miserables, Great Expectations, Winnie the Pooh, Song of Hiawatha, Time Machine, John Brown's Body, Legend of Sleepy Hollow, Life with Father, Old Man and the Sea, Cask of Amontillado, To Kill a Mockingbird, and The Hobbit.
There are thirty-four chapters representing weekly units. Each chapter has five instructive lessons which will take approximately 45-60 minutes to complete plus weekly review questions and a chapter test. Chapters are based on a "reading" which can vary from portions to whole chapters to multiple chapters (in the Bible readings). Some lessons are based on student essays. Some passages, readings, student essays, etc., needed for the lessons are provided in the Student Text; others are listed as reading assignments from the literary works mentioned. According to the author, completion of this course with its assignments provides one credit in writing and one credit in literature.
Chapters are introduced with First Thoughts (brief information about the passage or its author and how it may apply to student assignments), Chapter Learning Objectives (what is to be accomplished), and a Look Ahead to Friday (weekly checklist) section. The daily lessons provide an instructional segment plus a list of daily assignments which will include warm-up questions as well as reading and writing projects. Most lessons include a Concept Builder. These are typically graphic organizer exercises which will take 15 minutes or less to complete.
The Student Text is designed as a consumable worktext. There is ample space provided for note-taking (active reading) and for jotting ideas as well as supplying written responses to the many Concept Builders. The Chapter and Lesson organizational structure provides a built-in lesson plan that keeps things simple for both teacher and student. As mentioned before, many of the reading passages are also included in the student text.
The Teacher Guide provides some overview comments to the course but it is essentially a replica of the Student Text with answers. It also includes a very helpful answer key which provides "talking points" for discussion and literary analysis questions as well as objective answers. Chapter tests and answers are also included in the Teacher Guide.
I'm impressed with the scope and sequence of this course as well as its general orientation. The author is committed to the importance of a next generation of young people becoming discerning readers and capable communicators; recognizing that literary analysis (criticism) is the "first cousin of Christian apologetics." There is a masterful sequencing of skill-building in this course; leading the student through each point of literary analysis with examples and exercises as well as the necessary grammar, usage, mechanics and writing process practice. The student is expected to think hard. He's also expected to be diligent with assignments which will produce an impressive amount of written work. But assignments are reasonable in length and I found the reading selections intriguing and thought-provoking. For the teacher, prep is basically non-existent although there will be the obvious grading. Student - 466 pgs, pb. Teacher - 405 pgs, pb.~ Janice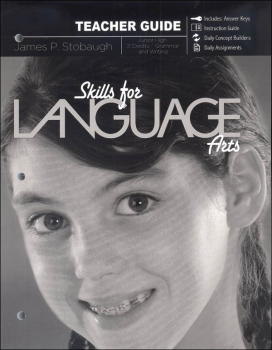 help desk software