Cait's Curriculum / Jayne's Journey Preschool Programs
Preschool education sets the stage for future learning.Cait and Jayne CD-ROMs give parents the tools for both educational and moral/biblical training. Basically, Cait curriculum and Jayne curriculum is the same program, but Cait has scripture and Bible content added while Jayne does not.
The best part about a program like this is that there are no consumables to purchase for future students and you can make as many copies as you need for your immediate family's use. The CD-ROMs contain PDFs for workbook pages,activities, games, teaching aids, and teacher notes-everything you need tot each the course.
Implementation of this program will take only a short time each day.Teaching aids and work pages are black line drawings and/or pictures that look like watercolor or colored pencil drawings. Workbook content, in order for volume I, is colors/shapes, numbers, alphabet, motor skills, same/different and pattern recognition. Volume II includes counting, opposites, calendar,handwriting letters & numbers, more math concepts, motor skills,transportation and safety, and science. Three different scheduling options are offered so that you can tailor the program to fit your needs and time availability.
Simply pop the CD-ROM into your computer and you can begin. A teacher's guide includes notes on how to use the program, curriculum format, a resource check-off list, schedule options, monthly and weekly plan sheets, and a weekly progress report. After reading the 'how-to' information, you are ready to print out worksheets, activities, games, and teaching aids for each lesson.Besides the regular lessons, there are a couple of additional topics covered.Skills for All Ages offers activities and worksheets in the areas ofcharacter, calendars, life skills & manners, and gross and fine motorskills. A Bonus Pac of materials has activities to be done aftercompleting the regular workbook pages. These include Clock-Time EncounterandBeginning Spanish. A list for recommended reading and videosappropriate for this age group is also included.
An Adobe Reader is the only requirement for these discs, and is included asa download with the program. PC and Mac compatible. ~ Donna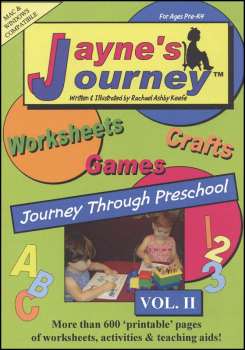 help desk software