GeoCentral Rock Science Kits
These rock sets include the basics for each category. Specimens range in size from ¾" to 1" and each set includes a 1" plastic magnifier and guide. The Hardness and Mineral kits also include a streak plate and nail. Each guide includes a key to specimens and an introductory statement about the contents of that particular kit. For the hardness kit an explanation is given along with the MOHS hardness scale; the mineral and rock kit guides give a brief explanation of their formation.
The Hardness Scale kit includes Talc, Gypsum, Calcite, Fluorite, Apatite, Orthoclase (Feldspar), Quartz, Topaz, and Corundum. Sorry - no diamond, which is the hardest naturally occurring material.
The Mineral kit includes Magnetic Pyrite, Blue Aragonite, Realgar,Calcite, Sodalite, Beryl, Sphalerite, Tourmaline, Siderite, Rhodochrosite, Wollastonite, Rock Salt, Crystal Point, Fuchsite, Olivine.
The Rock kit has 5 each of igneous, sedimentary, and metamorphic rocks: Igneous Obsidian, Granite, Basalt, Scoria, Rhyolite; Sedimentary Shale, Calcareous Tufa, Sandstone, Conglomerate, Limestone; Metamorphic Slate, Marble, Quartzite, Gneiss, Shist.
If you want small, affordable kits to cover the basics, these are a great option. Specimens are large enough to see detail, and they come in a sturdy cardboard box with divided plastic tray. Storage isn't an issue in these compact kits. ~ Donna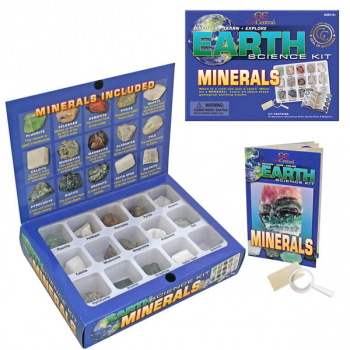 help desk software