Saxon Phonics & Spelling Fluency Readers
Colorful, engaging books for building fluency in emerging readers with good classification of phonics and spelling concepts. Really, would you expect anything else from Saxon Phonics and Spelling? Well, maybe the color is a surprise. Artwork varies in the books from realistic to cartoon-y but is always colorful and appealing. The stories by Lorna Simmons are enjoyable, often asking questions (What food do rabbits like to munch? or What does a shrimp do?) to get the child involved in the story.
Starting with Saxon Phonics Kindergarten
Sold in sets that correlate with the Saxon Phonics K-2 grades, there are three difficulty levels within each grade Easy (E), Average (A), and Challenge (C). The progression of skills and sounds is identical in each set, roughly paralleling the scope and sequence of the Saxon Phonics program. Each book is even lesson-labeled meaning theres a note identifying which lesson it can be used with and after.
Differences in difficulty level are related to number of words, length of sentences, and amount of phonograms covered. To give you an idea of the difference in amount of words/sentences: Saxon Phonics Grade 1, Book 8 E has one sentence with an average of five words per page. Book 8 A has 2-3 sentences with 15-20 words per page. Book 8 C has 4 sentences with 20-30 words per page.
The specific concepts and words are listed on the back of each book. For instance, in Grade 1, Book 8 (first used in Lesson 50):
phonetic concepts: E (5); A (6); C (6)
high frequency words: E (4); A (10); C (9)
nondecodable words: E (3); A (7); C (8)
If all that is just a bit too confusing, dont spend too much time worrying about it. These readers could be used for additional reading practice with almost any program. Choose the A books unless you have an idea that your child needs to take things a little more slowly or needs to be challenged. Books are 8 pgs, pb. The K sets have 15 books. The Grade 1 and 2 sets have 26. ~ Janice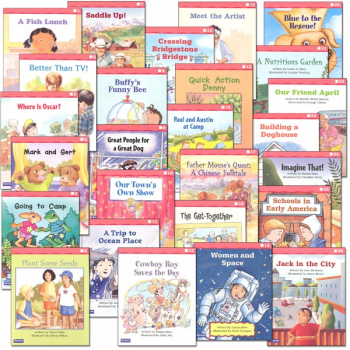 help desk software