Printing with Letter Stories
Integral to IEW's Primary Arts of Language program, this pull-out Letter Stories portion provides letter introduction and beginning printing practice. Letters are presented by starting stroke so students learn a few strokes that are then used with many letters. The letter stories help the child remember both the sound and the shape of each letter with the focus being on the sound a letter makes instead of its name. Applying only to lowercase letters (no stories for capital letters), capitals are introduced as the way the lowercase letters look when they are dressed up at the beginning of a sentence or a proper noun. Pacing can be flexible in keeping with the child's ability.
Progression of instruction is first a slanted or vertical surface (whiteboard) and using tactile materials (modeling dough or finger paint) with the first reproducible sheets being letter blocks (printing one letter in each square) before introducing the typical guidelines. Contrary to conventional wisdom, this program recommends using pens, gel pens and fine-tipped markers as writing instruments.
The Printing w/ Letter Stories packet includes an overview of the program, a scope and sequence (45 lessons that show when to introduce what letters as well as when to incorporate practice and review), and detailed teacher notes for each lesson as well as the actual blackline masters (reproducible for home or classroom use). Letter Stories are provided, but the teacher is encouraged to be expressive and to embellish. The Blackline Masters include lesson handouts, additional practice pages, guideline paper, and matching game cards. Did I forget to mention games? An ongoing matching game with a growing number of playing cards is played at regular intervals for review. The cards can be printed (and cut out) from the Blackline masters or a pre-printed Card Game  is available.
An enjoyable, thoroughly-prepped, multi-sensory program introducing handwriting (and phonics, and language arts) to your young student, the materials, since reproducible, are likewise cost effective. ~ Janice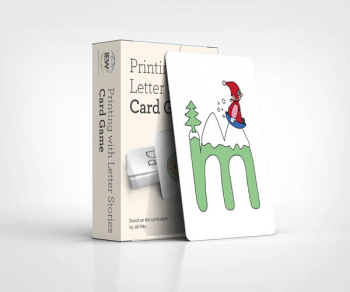 help desk software