"Go ye into all the world!" It's pretty hard to go and be understood without speaking the language. With the stated purpose of introducing students to world missions with stories and cross-cultural content, Mission Monde provides interesting instruction in conversational French as well as in reading and writing. Teachers knowing very little French can successfully teach the program through the use of an audio CD (which includes all instructional content) and a user-friendly, detailed Teacher's Manual. The methodology is simple and classic. Use repetition (read, sing, write, drill) to learn new vocabulary. Practice (do exercises) to learn new grammar rules. Use the language (speak, write, listen) to develop fluency. Lesson plans are comfortably detailed, listing materials needed for daily lessons, prompts for the audio tracks (also in workbook), workbook pages used, and suggestions for review activities. Each of the courses has five units each with 10 lessons. The TM suggests four weeks per unit which means two-three 30-40 minute lessons per week and this seems a very leisurely classroom pace. However, I think if homeschoolers wanted to cover the material more quickly the pace could be comfortably doubled to two weeks per unit. Be sure to allow plenty of time for adequate review using games, flashcards and supplemental exercises.
The Teacher's Manual is a 3-hole punched set of loose leaf papers. The tests and forms section includes reproducible classroom management sheets, unit study sheets that summarize everything taught in each unit, tests and test answer keys. Also provided in the TM are extra (reproducible) worksheets, seasonal activity sheets, teaching aids such as flashcards and bingo games which can be copied onto cardstock and laminated, and a complete answer key for the student workbook. The Student Workbook contains written versions of all the audio CD content. This includes vocabulary pronunciations, stories, questions, and miscellaneous instructions. There is a storyline about a missionary family living in France - or a French-speaking country - that runs through the courses. Students learn to pray and memorize Bible verses in French. Instruction includes cultural information about the various countries. Vocabulary illustrations - black and white - are photos or drawings but there is also a cute little not-quite-stick fellow who appears regularly. Also included in the workbook are a variety of practice and reinforcement exercises. The Audio CDs are easy listening with clear pronunciation (I could follow MM 1 easily with my forty-years-ago high school French). The full program includes the Teacher's Manual (TM) Student Workbook (WB) and CD. Additional students will need their own workbook. Workbooks vary from 65-75 pgs, pb. Level 6 includes two DVDs on outreach ministries in inner-city Toronto.
Since we just added the Spanish version of this program, I was comparing the French and the Spanish versions to see if they cover the same material, and they do in Level 1 and much of Level 2. However, as the series progresses, the material becomes more and more specific to the language and the location change.
Level 1 has you in Spain and France respectively. You will learn to introduce yourself & family, to be (both forms in Spanish) to have, weekdays, #1-12, colors, nationalities, making adjectives agree with nouns in number & gender, question words, continents, singing "Jesus Loves Me," easily conjugated verbs, school, friends, house, animals, and a prayer. There is a nice glossary of all the new vocabulary in the back of the student workbook. It also talks about the life of a Missionary Kid (MK) and what it means to be a Third Culture Kid (TCK) which is someone who moves around often and does not really identify with a "home" country or culture. These kids may not see their grandparents and cousins for years at a time. They make new friends and leave friends behind. The series addresses how God is often these kids' best friend and is always with them.
Level 2 is still in Spain and France and really adds a lot of vocabulary and grammar in the target language (TL). The CDs will be very useful to the kids and parents at this point and from here on actually. There is more historical information specific to each country in this level, all in the TL. Areas covered in both languages include: a quick review of points in level 1, food, a song, phonics, accent marks, the European Union and the euro, #1-60, religion, bible verses, irregular verbs, months, seasons, outdoor activities, these/those, prepositions, weather, body parts, the negative, time and other little grammar points that make you more fluent in the language.
Level 3 and Level 4 French are now in Burundi, Africa. You meet a new missionary family from Canada. There is still a lot of grammar and vocabulary to learn, but also an emphasis on the place. Names and locations reflect Burundi rather than France.
Level 5 and 6 French are in Quebec, Canada. There is a lot of information that would be useful to a family living here: historic events and places, government, geography of the region as well a continuation of your language study.
Level 7 French is for those missionaries going to Haiti. You will still need to complete at least up to level 5 first, I think, for the language learning.
The teaching manuals and CDs will be extremely helpful to you if you have no prior French experience. The workbooks are easy to follow for students and have a nice variety of activities. ~ Janice & Sara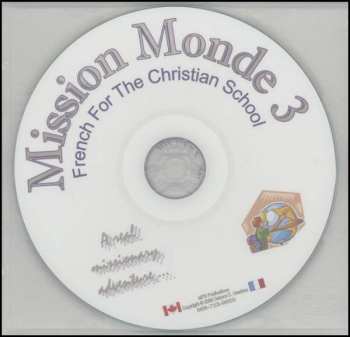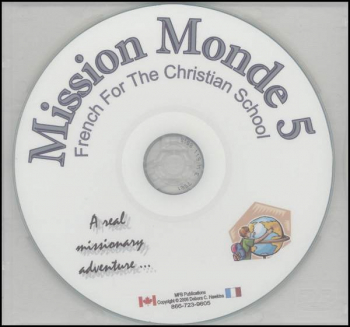 help desk software